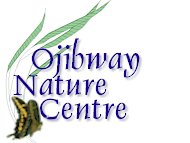 LINKS
Main Menu
Site Map & Links

Insects

EXTERNAL LINKS
Canadian Food Inspection Agency (CFIA)

The CFIA is undertaking an aggressive campaign to prevent the further spread of Emerald Ash Borer (EAB) in Ontario. Their web site contains more information on the ash borer and current news about control programs. Contact the Canadian Food Inspection Agency at 1-866-463-6017 if you see signs of EAB infestation in your ash trees, especially outside of the current quarantine area.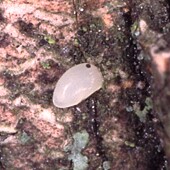 ash borer egg, about 1mm in length

Emerald Ash Borer belongs to the metallic wood-boring beetle family (Buprestidae). Several native species are found at Ojibway. Adults are typically metallic coppery or green, especially on the underside.
"D" shaped borer exit holes on ash trunk
Emerald Ash Borer (Buprestidae)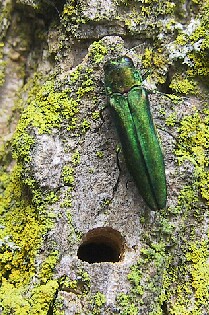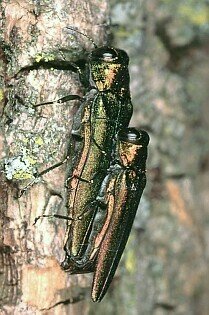 Emerald Ash Borer, Agrilus planipennis
Emerald Ash Borer is an Asian beetle that was accidentally introduced to the Detroit area. It was first identified in Windsor in 2002 and spread through much of Essex County by 2004. it was quickly apparent that most of the mature ash trees in Windsor would be killed within a few years. This has affected over 6,000 ash trees along city streets and many thousands more in parks and private properties. Fortunately ash trees are not an important component of the oak woodlands found in the Ojibway Prairie Complex.
By 2007 the area infested exceeded 40,000 sq. miles in southwestern Ontario, Michigan, Ohio and Indiana. An estimated 20,000,000 ash trees have died in the core infested area with over a billion more threatened. A potential method for biological control is being investigated that involves the release of specific parasitic wasp species. These wasps provide natural control of Emerald Ash Borers in China.
One Million Trees is a coalition of local community partners whose goal is to plant 1 million trees over ten years. It was developed as a response to the impact of the emerald ash borer on the local forest. Essex County including the City of Windsor may lose up to one million trees to the emerald ash borer. It is estimated that this tiny insect will destroy 20 percent of the total forest coverage in Essex County.
Larvae burrow under the bark of ash trees. The damage prevents water and nutrients from moving between the roots and the crown.
Photographs © P.D. Pratt