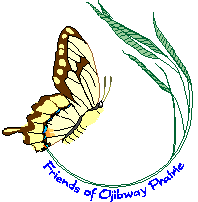 LINKS
Virtual Tour of Ojibway Prairie
Ojibway Nature Centre
Site Map & Links
Board of Directors
Bill Roesel, President
Ella Walker, Treasurer
Larry Onysko, Secretary
Claire McAllister, Vice-President
Bonnie Ross
Carl Maiolani
Paul Desjardins
Dave Puglia
Christine Gross
Patricia McGorman


OTHER FRIENDS
Friends of Provincial Parks
Friends of Algonquin Provincial Park
Tallgrass Ontario

The Friends of Ojibway Prairie
---


The Friends of Ojibway Prairie is a volunteer organization dedicated to promoting public awareness of the Ojibway Prairie Complex and its unique biological and historical importance. The Friends work closely with the City of Windsor and Ontario Parks to provide assistance with educational programmes, special events and restoration projects.

View The Friends of OJibway Prairie's brand new 30 second video on the Ojibway Prairie Complex, narrated by Dr. David Suzuki.
Join us on Tuesday May 17 for the launch of a new 10 minute video produced by The Friends of Ojibway Prairie. It will be shown at the Capitol Theature along with a feature length film entitled The Messenger. For details click here.
Read some media coverage about The Messenger.
Everyone is encouraged to come and bring some friends.
Tickets are only $11.20 but they are limited in number and are available through Eventbrite.
Volunteers donate countless hours of work towards improving the park complex every year. The Friends have sponsored an environmental outreach programme, provided equipment for the Nature Centre, ran special events, assisted groups with prairie plantings at several schools and published "Building a Prairie". An annual meeting is held each year in April.
Volunteers meet at the Nature Centre each Tuesday between 1:00 and 4:00 pm. to collect, sort and clean seed for prairie restoration projects. Additional volunteers are always welcome!
<! img src="wwwscen2.jpg" align="middle" width="570" height="16">
---
Membership
Annual membership in the Friends is $300 for life, $20 for clubs, $15 for families, $10 for individuals and $7 for seniors. (Membership Form)
Publications
The following items can be ordered from the Friends. (Request order form)
Building a Prairie (Booklet) $5
Spirit of the Land (original lithograph) $50
Native prairie wildflower seed (20 species)
Randy the Rattlesnake Activity Booklet for kids. $3
---
The Friends of Ojibway Prairie Inc.
c/o Ojibway Nature Centre
5200 Matchette Road
Windsor, ON
N9C 4E8
(519) 966-5852
e-mail: Friends of Ojibway Prairie