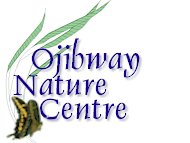 LINKS
Main Menu
Site Map & Links

Upcoming Events

School and Group Programs
Ojibway Nature Centre

Celebrate Spring with a Field Study at Ojibway Park!
All programs are led by an Ojibway naturalist and include interactive indoor presentations, guided outdoor exploration and hands-on activities which are curriculum-based. We strive to promote knowledge and a love for the natural environment by providing hands-on environmental experiences for our region's youth.

Click on the program titles to see the full program outline.

The excitement of spring is everywhere! Celebrate the uniqueness of our seasons at Ojibway! Highlights include: the busy bird activity in winter, and the evidence of nesting animawakening of insects and flowers in spring. Learn how animals meet their needs no matter what the season! Seeing, touching, smelling and listening will help students explore the wonders of Ojibway's natural environment. Attending all three sessions will illustrate the seasonal cycle of nature. Choose from a wildflower study, hands-on snake talk, scavenger hunt or leaf craft to complete your Ojibway exploration.

Students become acquainted with the wetland dwellers of the Ojibway area through an interactive presentation, live exhibits and pond study. Sporting boots and buckets, students experience first hand the unique adaptations found within the water. Available April and May if water levels allow.

This program highlights the lives of the amazing animals found at Ojibway Park. Their needs and characteristics are discovered as the students are guided through Ojibway's forest, pond and prairie communities. An investigative hike, animal study and bird feeder watch are some of the activities designed to help the students develop a clear understanding of how animals live in their natural environment. Choose from a scavenger hunt, hands-on snake talk, or stump study to complete your Ojibway exploration. Available in French as well.

Our most popular program! Learn about the three unique habitats at Ojibway. Hike under the canopy of the rare pin oak forest. Wander through the endangered tallgrass prairie and peer into the water at our pond. Explore the biodiversity of these habitats and investigate their unique interactions. Choose from a wildflower study, build-a-bird challenge, stump study or hands-on snake talk to complete your Ojibway exploration.

Discover the incredible biodiversity of this endangered ecosystem right here in Windsor. Learn how humans have changed its landscape. Students will investigate the relationships that occur within this space, identify biotic and abiotic factors, and learn about its close relationship with fire. Program includes an interactive indoor presentation, extended prairie hike with worksheets and your choice of a hands-on snake talk, wildflower study, build-a-bird challenge or development problem-solving exercise.
---
Programs are $7.80 per person. Fees apply to all persons (excluding staff). Programs run a maximum of 4 hours (including lunch break). A minimum fee will apply to groups of less than 20. All fees support Ojibway Prairie Complex.
Looking for more? Check out our program brochure for more program options. You can even build your own trip!
---

Cash, cheque, VISA, MasterCard and Debit card are all accepted.