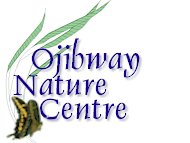 Main Menu
Site Map & Links
Location Map
Latest Sightings

Rare Vascular Plants
Spring Wildflowers
Summer Wildflowers
<! a href="septoct.htm">Autumn Wildflowers<! /a>
Native Trees

Autumn Wildflowers
---
Tallgrass Prairie Heritage Park, Spring Garden Prairie, and Ojibway Prairie Provincial Nature Reserve are the best locations for observing native wildflowers in September and October. Common fall flowers are indicated by an asterisk (*). Autumn foliage usually peaks in colour by mid October.
Agalinus purpurea Purple Gerardia*
Agalinus tenuifolia Slender Gerardia*
Ambrosia artemisiifolia Common Ragweed
Ambrosia trifida Giant Ragweed
Amphicarpa bracteata Hog-peanut*
Aster cordifolius Heart-leaved Aster
Aster ericoides Heath Aster*
Aster laevis Smooth Aster*
Aster lateriflorus Calico Aster
Aster novae-angliae New England Aster*
Aster oolentangiensis Sky-blue Aster*
Aster pilosus Hairy Aster*
Aster praealtus Willow Aster
Aster sagittifolius Arrow-leaved Aster*
Aster simplex Late Aster
Aster subulatus Annual Salt-marsh Aster
Aster umbellatus Flat-topped Aster*
Bidens ceruna Nodding Bur Marigold
Bidens frondosa Beggar-ticks
Bidens vulgata Tall Beggar-ticks
Centaurea maculosa Spotted Knapweed
Chelone glabra Turtlehead
Cirsium discolor Field Thistle*
Coreopsis tripteris Tall Coreopsis*
Erechtites hieracifolia Fireweed
Eupatorium altissimum Tall Thoroughwort
Eupatorium maculatum Joe-pye Weed
Eupatorium perfoliatum Boneset
Gentiana andrewsii Closed Gentian*
Gentianopsis crinita Fringed Gentian*
Hamamelis virginiana Witch Hazel
Helenium autumnale Common Sneezeweed*
Helianthus divaricatus Woodland Sunflower
Helianthus gigantea Tall Sunflower*
Helianthus tuberosus Jerusalem Artichoke
Hieracium scabrum Rough Hawkweed
Lactuca biennis Tall Blue Lettuce
Lespedeza hirta Hairy Bush-clover
Lespedeza intermedia Wand-like Bush-clover
Lespedeza virginica Slender Bush-clover
Liatris aspera Rough Blazing Star
Linum sulcatum Grooved Yellow Flax
Lycopus uniflorus Northern Water-horehound
Prenanthes alba White Lettuce
Prenanthes racemosa Glaucous White Lettuce*
Ratibida pinnata Grey-headed Coneflower
Solidago bicolor White Goldenrod
Solidago canadensis Canada Goldenrod*
Solidago gigantea Late Goldenrod
Solidago nemoralis Gray Goldenrod*
Solidago riddellii Riddell's Goldenrod
Solidago rigida Hard-leaved Goldenrod*
Solidago rugosa Wrinkle-leaved Goldenrod*
Solidago sempervirens Seaside Goldenrod
Spiranthes cernua Nodding Ladies'Tresses
Spiranthes magnicamporum Great Plains Ladies' Tresses
Vernonia missourica Tall Ironweed*
GRASSES
Andropogon gerardii Big Bluestem
Cenchrus longispinus Sandbur
Danthonia spicata Poverty Grass
Elymus canadensis Wild Rye
Hystrix patula Bottlebrush Grass
Panicum virgatum Switchgrass
Phragmites autralis Reed
Schizachyrium scoparium Little Bluestem
Spartina pectinata Prairie Cord Grass
Back to the top!
---

To send comments or questions:
Information last updated : 4 September 1998
URL of this page: http:///www.ojibway.ca/septoct.htm
Copyright © 1998. All rights reserved. You are on a City of Windsor Web Site.