Bird Seed, Books and Sale Items at Ojibway
Niger seed
Sunflower seed
Oil seed
Peanuts
High quality mixed seed
Buy seed in bulk
Suet
Bird feeders
Wildlife Photo Cards
Children's Items
Original artwork
Prairie Wildflower Seed





Ojibway Tallgrass Guide
Guide to Tallgrass Prairie Wildflowers
Guide to Carolinian Trees
Mushrooms of Eastern Canada
Beginner's Guide to Dragonflies
Butterflies through Binoculars
Birders Guide to Point Pelee
Mammals of Ontario
SW Ontario Photo Field Guides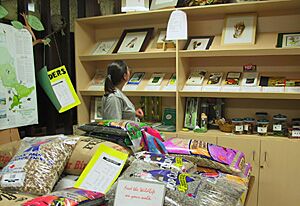 Upcoming Specials
Receive a 10 percent discount on all bird seed purchased during our Fall and Winter Festivals.
Guide to Tallgrass Prairie Wildflowers
Beautiful photographs illustrate this field guide to the tallgrass prairie. $30.95
Trees of the Carolinian Forest
A guide to the trees of Southern Ontario by Gerry Waldron. $24.95
Mushrooms of Ontario and Eastern Canada
A great photo guide to mushrooms and other larger fungi. $26.95
A Birder's Guide to Point Pelee
A detailed guide to birding at Point Pelee, Pelee Island and Essex County by Tom Hince. $19.95
Sibley Field Guide to Birds of E. North America
A guide to bird identification by David Sibley. $29.95
Beginner's Guide to Dragonflies
This book covers over 80% of all the dragonflies found at Ojibway. $13.95
Photo Field Guides to Butterflies, Freshwater Mussels, Bats, Wildflowers of Southern Ontario
Handy pocket guides for southwestern Ontario.$9.85 to 14.02 each
Golden Guides to Butterflies & Moths, Spiders, Insects, Reptiles & Amphibians
Small pocket guides.$9.95 to 10.95 each
FREE STUFF
Brochures on the birds, mammals, reptiles & amphibians, butterflies, trees and wildflowers of Ojibway as well as trail guides, maps and other informative handouts are available free of charge.