Located in Windsor, Ontario, Canada, Ojibway Prairie Complex is a collection of six closely situated natural areas within a 10 minute drive from downtown. The Department of Parks & Recreation's Ojibway Nature Centre administers five of these areas. Ojibway Park, Tallgrass Prairie Heritage Park, Black Oak Heritage Park, Spring Garden Natural Area, and Oakwood Natural Area for a total of approximately 260 hectares. The majority of these sites are designated as the Ojibway Prairie Remnants Area of Natural and Scientific Interest (ANSI). The nearby Ojibway Prairie Provincial Nature Reserve, owned by Ontario Parks, adds more than 105 hectares of additional prairie and savanna. The total area is continually growing as the City of Windsor and Ontario Parks acquire more land for protection.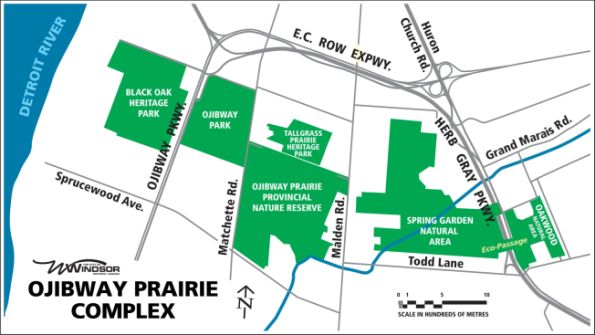 The most striking aspect of Ojibway Prairie Complex is the tremendous variety of its vegetation and animal life. Wetlands, forest, savanna and prairie provide habitat for a great number of rare plants, insects, reptiles, birds and mammals. The prairie landscape, characterized by a lack of trees (less than 2.5 trees/hectare) includes grasses and flowers that grow very tall and lush. Hence the name - tallgrass prairie. [Click here to learn more about prairie in Ontario.]
Ojibway is located in a vast bowl of poorly drained, yellow coloured sandy soil over a thick bed of clay. The sand is saturated with water in spring but very dry in mid-summer. This situation is more suited to grasses and wildflowers than trees which require a more consistent environment (Burridge 1973).
Fire, of course, provides a tremendous protection to the prairie. Without the aid of fire to burn back the invading woody plants, the prairie would never have been able to maintain its tenuous foothold in the province of Ontario.
In the end, neither the forest nor the prairie won the battle. It was the axe and the plough that were the ultimate victors. Essex County, in extreme southern Ontario, has less than 6% natural forest cover. It is also estimated that less than 0.5% of the original prairies and savanna remain in all of southwestern Ontario (Bakowsky and Riley 1994). The largest relicts which survived were those on lands controlled by native aboriginal peoples, such as Walpole Island, and those wedged between the developed urban portions of Windsor and LaSalle, the Ojibway Prairie Complex.
Back to the top!