April 2003 Sightings in the Windsor Area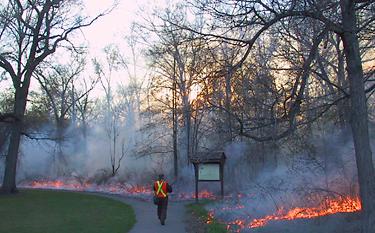 Visit the Nature Centre's Upcoming Events page and ECFNC Activities page for upcoming programs.
There is a new shortcut to Ojibway's web site. Instead of trying to remember our URL just tell your friends to enter www.ojibway.ca to reach our site.
Saturday, April 19: Yellow trout lilies and round-lobed hepaticas were found blooming in Oakwood Park today. Insects seen in the park included common green darner 3, mourning cloak 1, eastern comma 2, red admiral 2, and cabbage butterfly 4. The wooded trails held numerous Hermit Thrushes and White-throated Sparrows.
Tuesday, April 15: The Ministry of Natural Resources conducted a 200 ha prescribed burn in the Ojibway Prairie Provincial Nature Reserve today. Lands & Forests Consulting conducted a 21 ha burn in Ojibway Park on Monday. Both burns acheived good coverage due to the dry conditions this spring.
Friday, April 11: Warm weather is returning and almost all the snow has disappeared from the park. New spring arrivals include two Field Sparrows found singing in the nature reserve today (Fred Urie) and Cabbage Butterfly (Paul Pratt). Flowering pussy willows are attracting many insects such as Mourning Cloak butterflies and flower flies.
Participants in last night's woodcock and owl programme were treated to views of a nesting Great Horned Owl, several displaying Woodcock, Fox Sparrows, calling Chorus Frogs, Raccoons, White-tailed Deer and leisurely observation of a Red Fox.
The first Hermit Thrush of the spring was found on April 8 (Paul Pratt) and the first local Double-crested Cormorants (24) were seen at Peche Island on April 9 (Fred Urie).
Monday, April 7: Winter returned with an ice storm on Friday night and 10 cm. of heavy snow today. The nature centre's feeders are very busy with large numbers of birds including our first Chipping Sparrow of the spring, two Fox Sparrows and a Carolina Wren. A single Tufted Timouse has been visitng the feeders since last week.
The Zappio family reports a flock of seven Wild Turkeys in Amherstburg, near Western Secondary School, on April 4 & 5.
Thursday, April 3: Fred Urie spotted six Fox Sparrows in the vicinity of the nature centre this morning and counted a total of 59 migrating Eastern Phoebes between Ojibway, Devonwood C.A. and Memorial Park.
Ian Woodfield reported two Long-eared Owls are still present at Little River yesterday.
Green Darners first appeared at Ojibway on March 28 and the first mated pair were seen at the pond in Ojibway Park yesterday (Tom Preney).
Tuesday, April 1: Chorus Frogs are in full song today from several locations at Spring Garden, Tallgrass Prairie Heritage Park and the provincial nature reserve. Karen Cedar discovered the first Eastern Garter Snake for the season and also had two Big Brown Bats were flying around the nature centre at dusk.
Visit March 2003 sightings.