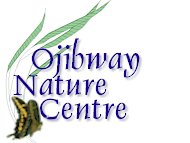 LINKS
Ojibway Nature Centre
Site Map & Links
Map of Ojibway


PAST MONTHS

1999
June
May
April
March
February
January
1998
December
November
October
September
August
July
June
May
April
March
February
January
1997
December
November

July 1999 Sightings in the Windsor Area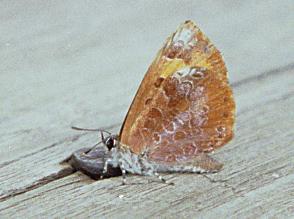 Harvester, June 10,1999 © K. Cedar

You can receive daily reports of bird sightings from across Ontario by subscribing to OntBirds.
Friday, July 30:The first Northern True Katydid (Pterophylla camellifolia) was heard on the evening of July 25 which quickly expanded into a chorus of katydids by the 28th. Their loud, distinctive "katy-did, katy-didn't" song is common over much of the Northeastern US. In Ontario they can be heard only in the Carolinian region.
Wednesday, July 28: The Nature Conservancy of Canada purchased Middle Island today at public auction in Ohio. The island is located just off the southern tip of Pelee Island and is the southernmost land mass in Canada. The island will become part of Point Pelee National Park.
Tuesday, July 27: Low water levels have created extensive mudflats along Big Creek at Knapps Island Road and Holiday Beach Conservation Area. Large numbers of shorebirds are feeding there including +50 Killdeers, 4 Spotted Sandpipers, +200 Lesser Yellowlegs, 3 Greater Yellowlegs, 1 Solitary Sandpiper, +60 Short-billed Dowitchers, 2 Stilt Sandpipers, +100 Pectoral Sandpipers, +60 Least Sandpipers, +40 Semipalmated Sandpipers, 1 Wilson's Phalarope and 1 Marbled Godwit. The latter was just north of the trout pond at HBCA (on Sunday by PD Pratt). Randy Horvath and Jim McCoy also found Common Snipe and Black-bellied Plover there today.
Tuesday, July 13: Wildflowers starting to bloom now include: Tall Ironweed, Dense Blazing Star, Culver's Root, Woodland Sunflower and Showy Tick-trefoil. Black-eyed Susan, Wild Bergamot, Gray-headed Coneflower, Flowering Spurge, Virginia Mountain Mint, Prairie Loosestrife and Swamp Milkweed are common now and Wild Indigo, Butterfly Milkweed, Colic Root, Pale-spike Lobelia and Spreading Dogbane are past their peak of bloom.
Saturday, July 3: The sixth annual Windsor Butterfly Count was held today. The very warm temperatures may have slowed down the observers but did not adversely affect the butterflies. Fifty-six species were reported! Visit the results page for a detailed account.
Two very rare prairie wildflowers were discovered during the course of the butterfly count: an Eastern Prairie White-fringed Orchid, Platanthera leucophaea, and Tall Green Milkweed Asclepias hirtella, were found by Karen Cedar at Tallgrass Prairie Heritage Park. The orchid is rare across its range in North America and the milkweed is only the second record for Canada this decade.
Thursday, July 1: Fall bird migration has begun. Today there were 21 Lesser Yellowlegs along the mudflats along Highway 18 at Big Creek and a Least Sandpiper in Kingsville (PD Pratt). Adult shorebirds (likey birds that have failed to breed) are well known to begin their southward journey very early in the summer.
Click here for Latest sightings.