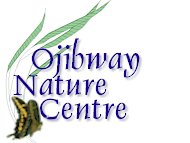 LINKS
Ojibway Nature Centre
Site Map & Links


PAST MONTHS

1999
July
June
May
April
March
February
January
1998
December
November
October
September
August
July
June
May
April
March
February
January
1997
December
November

August 1999 Sightings in the Windsor Area

Thursday, August 19:Common Nighthawks are beginning to head towards their wintering grounds in South America. Over 100 were flying over LaSalle yesterday evening (G. Gervais, P. Pratt).

Tuesday, August 17:An immature Little Blue Heron was found at Holiday Beach on Saturday (by Paul Pratt) and seen again yesterday (Ian Platt). This bird and 120 Great Egrets were seen at the far east end of the conservation area which is accessible from a gated lane off County Road 50. Fred Urie explored the wetlands at Holiday Beach yesterday and counted 614 Great Blue Herons.

The last two weeks or more have been great for southern butterflies. Common Buckeye, Fiery Skipper, Pipevine Swallowtail, Snout Butterfly, Little Yellow, Gray Hairstreak and Variegated Fritillary have been widely reported across the region.

Monday, August 2:Extensive mudflats at Big Creek and Holiday Beach Conservation Area continue to attract good numbers of shorebirds and waders. Lesser Yellowlegs, Killdeers and Pectoral Sandpipers were common with smaller nubers of Least Sandpiper, Semipalmated Sandpiper, Semipalmated Plover, Spotted Sandpiper, Short-billed Dowitcher, Greater Yellowlegs and Solitary Sandpiper.

The number of Great Blue Herons was staggering. Paul Pratt carefully scanned the marsh shoreline from just one spot by the base of the hawk tower and counted 287! While heron numbers were up only a single Great Egret was present at the same location. Brisk northwest winds today brought a couple of Northern Harriers, Turkey Vultures and a single Red-tailed Hawk over the hawk tower.

Click here for July sightings.

You can receive daily reports of bird sightings from across Ontario by subscribing to OntBirds.
---
Send reports of your latest sightings to:
Ojibway's web site: Paul Pratt, 519-966-5852 (ojibway@city.windsor.on.ca)