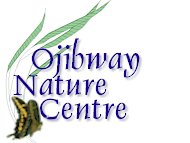 LINKS
Ojibway Nature Centre
Site Map & Links


PAST MONTHS

1999
August
July
June
May
April
March
February
January
1998
December
November
October
September
August
July
June
May
April
March
February
January
1997
December
November

Latest Sightings in the Windsor Area

September 1999

Tuesday, September 07: Ruby-throated Hummingbirds are putting on a great show at the nature centre's wildlife viewing window. September is the easiest month to attract hummingbirds to feeders. Warblers have been going through the park in good numbers. Magnolia (most common), Nashville, Chestnut-sided, Black-throated Blue, Black-throated Green, Blackburnian, Bay-breasted, American Redstart, Wilsons and Black-and-White Warbler were seen on Sunday by Fred Urie.

Mike Oldham found Citrine Fork-tail in the alvar on Pelee Island this summer. This damselfly has been recorded only a few times in Ontario, most recently along the lake Erie shoreline in Elgin County.

Wednesday, September 01: Raptors observed on the opening day of monitoring at the hawk tower by the Holiday Beach Migration Observatory were: Osprey (OS) 2, Northern Harrier (NH) 8, Sharp-shinned Hawk (SS) 123, Cooper's Hawk (CH) 3, Broad-winged Hawk (BW) 4, Red-tailed Hawk (RT) 2, American Kestrel (AK) 5 and unidentified raptor (UR) 6. The local hunt club next door is pumping water back into the previously very dry Big Creek Marsh. The shorebirds are still about but water levels are rising, the exposed mud flats now flooded. Hundreds of Blue-winged Teal are feeding close to the tower as are good numbers of shorebirds including Greater and Lesser Yellowlegs, numbers of Killdeer and Short-billed Dowitchers. Great Blue Heron numbers have dropped to 304 individuals from over 600. Five Ruby-throated Hummingbirds were counted, and one Red-headed Woodpecker, an immature. Eight Monarchs were counted. Observers: B. Pettit, D. Boulay, J. McCoy, F. Urie, W. Telesco, B. Learmouth (site coordinator).

Click here for August sightings.

You can receive daily reports of bird sightings from across Ontario by subscribing to OntBirds.
---
Send reports of your latest sightings to:
Ojibway's web site: Paul Pratt, 519-966-5852 (ojibway@city.windsor.on.ca)
Essex County Field Naturalist's: Jim McAllister, 519-254-1854 (home)
Windsor Star: Tom Hince, 519-825-9169 (home)
Detroit RBA (Michigan and south-western Ontario): Karl Overman, 248-473-0484 (home)

Rare Bird Alerts in Ontario & Michigan (These are taped messages, updated weekly.)
Point Pelee 519-322-2371
Essex County Field Naturalists' 519-252-BIRD
Detroit, Michigan 248-477-1360
Hamilton 905-648-9537
Kingston 613-549-8023
London 519-473-5853
Oshawa 905-576-2738
Sault Ste-Marie 705-739-8585
Simcoe County 705-739-8585
Toronto 416-350-3000 ext 2293
How to subscribe to OntBirds