March 2000 Sightings in the Windsor Area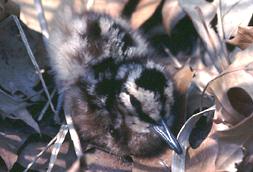 On Saturday April 1, the first St. Clair National Wildlife Area Waterbird Festival will be held. There will be staffed viewing stations at the NWA and in Mitchells Bay. Contact Chatham-Kent Tourism at 1 800 561 6125 for more details. Sponsors are the Ducks Unlimited Canada, Canadian Wildlife Service, Stewardship Kent, Sydenham Field Naturalists and Lake St. Clair Important Bird Area Steering Committee.

Help Ojibway celebrate Earth Day on Sunday April 16. There will be a wide variety of entertainment, guest speakers and children's activities from noon to 4:00 pm. at the nature centre.
March 2000
Tuesday, March 28: Ojibway's field trip to Point Pelee on Saturday found 68 Surf Scoters, one male Black Scoter, two Double-crested Cormorants and three Tree Swallows at the tip. Golden-crowned Kinglets, Northern Flickers and Eastern Phoebes were conspicuous in the woodlands.
Spring Peepers started calling at Point Pelee on March 23. There was a strong "chorus" of Chorus Frogs and Northern Leopard Frogs at the Spring Garden ANSI pond on Sunday.
Thursday, March 23: The advance of spring continues. Our first Woodchuck was spotted on Tuesday at Malden Park. Yesterday a Fox Sparrow was frequenting our bird feeders and today a Cabbage Butterfly and pair of Eastern Bluebirds were present at Ojibway.
Monday, March 20: Ojibway had a field trip to the St. Clair National Wildlife Area on Saturday. Highlights included hundreds of Tundra Swans, an excellent variety of ducks, Pied-billed Grebe, Lesser Yellowlegs, Bald Eagle and Northern Shrike.
Migration slowed last week with the change to cooler weather. Ron Muir reported an Eastern Towhee at his Amherstburg feeder on March 16. An Eastern Phoebe was seen at the pond in Malden Park yesterday.
Thursday, March 09: Temperatures reached 80F (25C) yesterday which produced lots of insect activity at Ojibway including mourning cloaks, Eastern comma butterflies, water striders, bumblebees and mosquitoes(!). A Turkey Vulture and seven Wood Ducks were seen in the nature reserve by Karen Cedar. A male Northern Flicker was digging in the lawn this morning and white elms are in flower at Ojibway.
The number of calling Chorus Frogs is much lower than normal this spring. Many of the traditional breeding locations have dried up and very few frogs have been heard in the nature reserve this week.
Tuesday, March 07: The very mild weather has resulted in American Hazel shrubs being in flower today. Mourning Cloak and Eastern Comma Butterflies were seen by several observers at Ojibway today and Malden Park on Sunday (Fred Urie). Both of these species overwinter as adult butterflies and typically are the first species to appear each spring.
June Hurley reported 1,500 Tundra Swans along the Lake St. Clair shoreline at Stoney Pointe. Tundra Swan migration usually peaks in our area over the next week or two.
Friday, March 03: Ojibway's first Eastern Phoebe and Chorus Frogs of the spring were found calling along the Titcombe bikeway today by Fred Urie. Yesterday Fred discovered four Fox Sparrows in the southern section of Spring Garden Prairie. Large numbers of American Robins have returned over the last day or so and are now present throughout the area.
Other signs of spring today include Painted, Snapping, Red-eared and Blanding's Turtles seen along the creek in front of the nature centre and a few silver maple trees in bloom at Mic Mac Park.
American Woodcock can easily be heard (and sometimes seen) along the Titcombe bikeway which separates the Ojibway Prairie Provincial Nature Reserve and Tallgrass Prairie Heritage Park. The males begin their flight displays at twilight when it is still possible to pick out their silhouette against the fading light. Pick an evening when the wind is calm and temperatures are not too cold.
Click here for February 2000 sightings.