November 2000 Sightings in the Windsor Area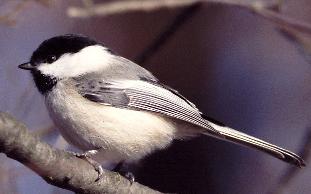 Visit the new web site for the Holiday Beach Migration Observatory.

Beginning on Monday, November 27 the nature centre will host a Public Internet Access Site as part of the Community Access Program. Visitors are welcome to use this computer for surfing the net, e-mail or learning more about Ojibway.

Monday, November 27: A Ross's Goose was reported today at Jack Miners Sanctuary by Dean Ware. The large flock of Canada Geese at Miner's usually contains a few Snow Geese as well. A Long-tailed Duck (Oldsquaw) was reported at Tremblay Beach Conservation Area by Fred Urie.

Monday, November 19: The first heavy frost of the season finally killed off the plants in the Nature Centre's gardens last night.

Watch for Snowy Owls in the region. Individual owls were reported at Wheatley and Amherstburg on the 17th.

Friday, November 17: Wes Kinnon stopped by the centre today with a photo of a male Vermilion Flycather taken at Holiday Beach C.A. on October 31. It is possible that the bird may still be in the area.

Please excuse the delay in providing updates to the web site. We have been experiencing severe network connection problems over the past month.

Wednesday, November 1: Dragonflies have remained active with the continued mild weather. 65 Yellow-legged Meadowhawks and 19 Little Spreadwings were seen today at Tallgrass Prairie Heritage Park (P Pratt, K Cedar). Also reported today was a very late Northern Brown Snake seen on the Titcombe bike path (Fred Urie). Six species of butterflies (Mourning Cloak, Common Buckeye, Cabbage White, Clouded Sulphur, Orange Sulphur and Northern Pearl Cresent) were seen at Ojibway and/or the Chrysler Canada Greenway.

Click here for October 2000 sightings.

You can receive daily reports of bird sightings from across Ontario by subscribing to OntBirds.
---
Send reports of your latest sightings to:
Ojibway's web site: Paul Pratt, 519-966-5852 (ojibway@city.windsor.on.ca)
Essex County Field Naturalist's: Jim McAllister, 519-254-1854 (home)
(The weekly birding column by Tom Hince has been discontinued by the Windsor Star)
Detroit RBA (Michigan and south-western Ontario): Karl Overman, 248-473-0484 (home)

Rare Bird Alerts in Ontario & Michigan (These are taped messages, updated weekly.)
Point Pelee 519-322-2371
Essex County Field Naturalists' 519-252-2473
Detroit, Michigan 248-477-1360
Hamilton 905-381-0329


Oshawa 905-576-2738
Ottawa 613-825-7444 Sault Ste-Marie 705-256-2790
Toronto 416-350-3000 ext 2293
How to subscribe to OntBirds