Feb 2002 Sightings in the Windsor Area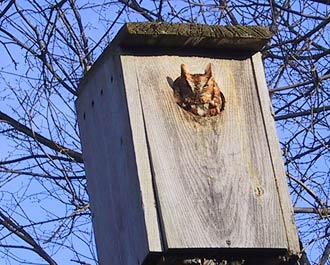 Monday, February 25: The first Mourning Cloak butterfly of the year was seen today on North Talbot Road by Tom McGuiness. This is a record early date for this species. Red-winged Blackbirds and Common Grackles are now widespread and a few American Robins are starting to appear. The buds of silver maples, American elms and American hazels are swollen and ready to open.
Tuesday, February 19: Signs of spring continue to appear at Ojibway. Eastern Chipmunks are now a common sight on park trails. Small flocks of American Robins, Red-winged Blackbirds and Common Grackles were seen this morning.
Highlights of Ojibway's birding trip to Point Pelee last Saturday included an Eastern Screech-Owl near the tip, 2 Snowy Owls (on Concession C just outside park), 400 Common Mergansers, 7 Snow Geese (with 400 Canada Geese), adult Bald Eagle, and migrant Horned Larks and Red-winged Blackbird.
Wednesday, February 13: Watch for early spring migrants such as Horned Larks, Ring-billed Gulls and several species of waterfowl to arrive over the next few weeks. Pussy Willows are peeking through their buds and many birds have started to sing. Just around the nature centre we have heard Cardinal, House Finch, Tufted Titmouse, Carolina Wren, and White-breasted Nuthatch.
Again this winter a small group of Long-eared Owls can be seen in Windsor, roosting along the Ganatcho Trail at Little River.
Saturday, February 9: Windsor's CUPE Local 543 voted to accept a new three-year agreement today. The nature centre and other city facilities will return to normal open hours on Monday, February 11.
Visit January 2002 sightings.