January 2002 Sightings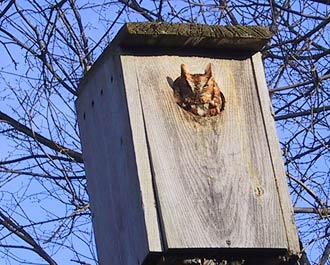 Monday, January 14: Windsor's CUPE Local 543 went out on strike today. As a result the nature centre will be closed until a settlement is reached.

Thursday, January 4: Four Fox Sparrows and eleven White-throated Sparrows were visiting the feeders at Ojibway today.

Tuesday, January 1: The Detroit River Christmas Bird Count was held today. Ice jams filled most of the bays along the Detroit River and ponds were frozen but snow cover was minimal. Highlights included Double-crested Cormorant and American Coot (next to Fighting Island), Red-headed Woodpecker (Ojibway Prairie), Northern Mockingbird (Healy St.), Gray Catbird (LaSalle), Eastern Towhee (Spring Garden Prairie), Fox Sparrow (feeder at Ojibway Nature Centre). Complete results are available on the CBC page. A very hardy Eastern Chipmunk visited the nature centre feeders today.

Visit December 2001 sightings.

You can receive daily reports of bird sightings from across Ontario by subscribing to OntBirds.
---
Send reports of your latest sightings to:
Ojibway's web site: Paul Pratt, 519-966-5852 (ojibway@city.windsor.on.ca)
Essex County Field Naturalist's: Jim McAllister, 519-254-1854 (home)
Detroit RBA (Michigan and south-western Ontario): Karl Overman, 248-473-0484 (home)

Rare Bird Alerts in Ontario & Michigan (These are taped messages, updated weekly.)
Point Pelee 519-322-2371
Essex County Field Naturalists' 519-252-2473
Detroit, Michigan 248-477-1360
Hamilton 905-381-0329
Oshawa 905-576-2738
Ottawa 613-825-7444 Sault Ste-Marie 705-256-2790
Toronto 416-350-3000 ext 2293
How to subscribe to OntBirds