April 2002 Sightings in the Windsor Area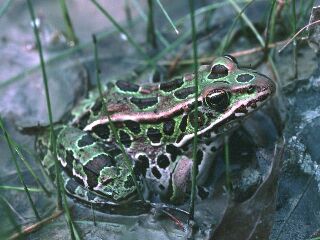 Visit the Nature Centre's Upcoming Events page and Essex County Field Naturalists' Club Activities page for upcoming programs.
For information on Earth Day at Ojibway visit http://www.mnsi.net/~ewswarl/.
Thursday, April 11: Today was a warm sunny day with many migrants noted along the Wildlife Trail at Ojibway such as Yellow-bellied Sapsucker, Eastern Phoebe, Winter Wren, Golden-crowned Kinglet (very common), Brown Creeper, Hermit Thrush, Rusty Blackbird, Eastern Towhee and Fox Sparrow (5). Many Midland Painted Turtles were basking on logs along the creek and several Eastern Garter Snakes were noted.
Butterflies seen today at Ojibway Park included Mourning Cloak (plus 5 yesterday) and Eastern Comma (2, plus 2 yesterday). Tom Preney found a Spring Azure and 10 Common Green Darner dragonflies at Tallgrass Prairie Heritage Park.
Wednesday, April 3: Jim McCoy and Brad Hamel found a Hermit Thrush, Eastern Phoebe and several Golden-crowned Kinglets along the creek at Ojibway Park today.
The first Northern Leopard Frogs were reported March 31 (5) at Spring Garden by Paul DesJardins and April 1 (2) at Brunet Park by Tom Preney.
Visit March 2002 sightings.