February 2005 Sightings in the Windsor Area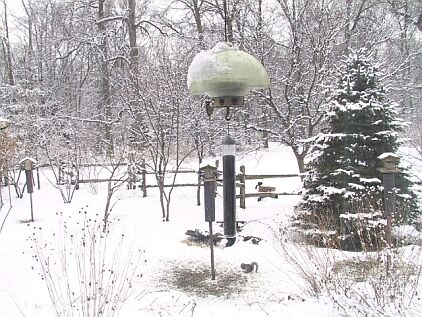 The Great Backyard Bird Count will once again be sweeping the continent, February 18-21. This year's theme is "North America's Great Backyard". People across North America are encouraged to count the birds in their backyards and report them over the Internet, as part of the Great Backyard Bird Count (GBBC), one of the world's largest volunteer efforts of its kind. In addition to its value as a research study, the GBBC allows people of all ages and backgrounds to celebrate birds and provide vital information about North America's birds.

http://www.birdsource.org/gbbc/index.html
Monday, February 28: Red-winged Blackbirds, Common Grackles and Ring-billed Gulls have become more widespread over the past week and another Great Horned Owl nest was found on February 26. The first groundhog of the year was seen today.
Randy and Robert Horvath discovered a pair of Ross's Geese on the Detroit River on February 26. They were next to Peche Island and visible from Lakeview Marina.
Wednesday, February 16: We have more signs of spring being reported at Ojibway. Northern Cardinals are now singing daily around the nature centre and Pussy Willow buds are starting to expand. The first reported Striped Skunk of the season was seen February 14, the first Eastern Chipmunk on February 16 and the first Great Horned Owl nest on February 13.
Saturday, February 5: Signs of spring were very evident during today's outing along the upper portion of the Detroit River. Highlights included:
Great Blue Heron 3 (on ice at north tip of Belle Is.)
Canada Goose +500
Mute Swan 15
Gadwall 1 (nice male at Little River)
American Black Duck 2 (Peche Is.)
Mallard 500 (courtship display, mating)
Canvasback 3000 (mostly males)
Redhead 5
Greater Scaup 250
White-winged Scoter 1 (male at Sandpoint Beach)
Long-tailed Duck 2 (foot of Lauzon Road)
Bufflehead 5
Common Goldeneye 400 (many males performing courtship displays)
Common Merganser +3000 (large numbers on the river this month)
Red-breasted Merganser 8
Bald Eagle 2 (nest building on Peche Island)
Lesser Black-backed Gull 1 (adult at foot of Lauzon Road)
Visit January 2005 sightings.