November 2005 Sightings in the Windsor Area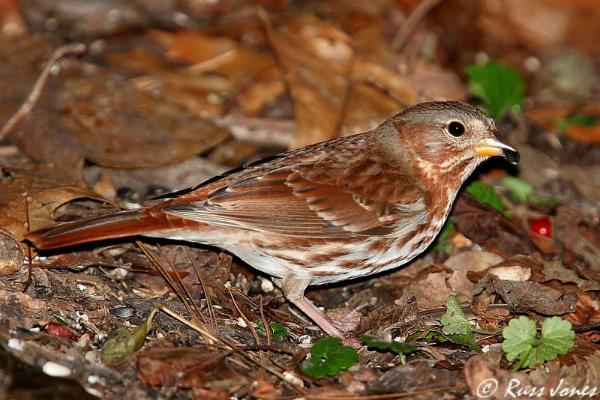 Visit the Nature Centre's Upcoming Events page and ECFNC Activities page for upcoming programs.

We have updated the Massasauga Rattlesnake Recovery web site. Check out the new interactive Quiz.

Saturday, November 19: Highlights of Ojibway's trip to Point Pelee National Park today included a very nice look at a perched Long-eared Owl near the tip and a Golden Eagle (1 adult). Other species seen today were Red-throated Loon 1, Common Loon 3, Horned Grebe 1, Snow Goose 1, Cackling Goose 1, Northern Shoveler 4, Redhead 5, Surf Scoter 6, Ruddy Duck 1, Eastern Screech-Owl 1, Eastern Phoebe 1, Winter Wren 2, Ruby-crowned Kinglet 1, American Pipit 30, Common Yellowthroat 1, White-throated Sparrow 60 and a very late Common Green Darner.

Tuesday, November 28: Russ Jones took the Fox Sparrow photo shown above at the nature centre's feeders today.

Visit October 2005 sightings.

You can receive daily reports of bird sightings from across Ontario by subscribing to OntBirds.
---
Send reports of your latest sightings to:
Ojibway's web site: Paul Pratt, 519-966-5852 (ojibway@city.windsor.on.ca)
Detroit RBA (Michigan and south-western Ontario): Karl Overman, 248-473-0484 (home)

Rare Bird Alerts in Ontario & Michigan (These are taped messages, updated weekly.)
Point Pelee 519-322-2371
Detroit, Michigan 248-477-1360
Hamilton 905-381-0329
Oshawa 905-576-2738
Ottawa 613-860-9000
Sault Ste-Marie 705-256-2790
Toronto 416-350-3000 ext 2293
How to subscribe to OntBirds