January 2006 Sightings in the Windsor Area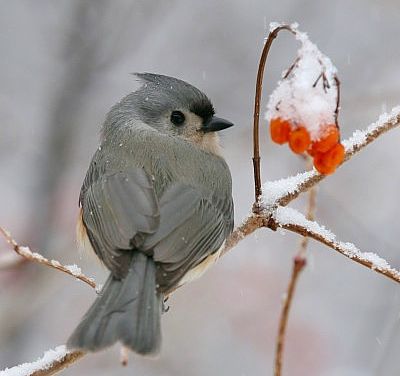 Visit the Nature Centre's Upcoming Events page and ECFNC Activities page for upcoming programs.
Visit our new bird photo gallery that contains bird photographs taken by park stafff and visitors at Ojibway.
Monday, January 30: Unlike December, January has been a very mild month with no snow cover and no ice on the park's pond and creek. Animals that are not normally active in the winter such as Red-eared Slider, Eastern Gartersnake, Eastern Chipmunk and Groundhog have been recorded this month. Today we noticed the white tips of pussy willows are showing.
Pairs of Bald Eagles can often be seen at Peche and Fighting Islands but the usual concentrations of winter waterfowl at these locations are missing. With no ice on the Detroit River waterfowl are more widely dispersed than normal.
Sunday, January 8: Fred Urie reported a Northern Mockingbird at Brighton Beach with Eastern Towhee (2), Gray Catbird (1) and Killdeer (1) at Spring Garden Natural Area.
Saturday, January 7: Ojibway's field trip to Point Pelee this morning recorded large numbers of gulls at the tip including +1000 Bonapartes Gulls, +200 Great Black-backed Gulls, Lesser Black-backed Gull, adult Little Gull and second year Glaucous Gull.
A Northern Shrike made a brief appearance at the nature centre feeders on January 6. On the same day Tom Preney saw 20 Eastern Bluebirds in the Ojibway Prairie Provincial Nature Reserve.
Sunday, January 1: Seventeen birders helped with the Detroit River Christmas Bird Count today. The 65 species recorded included an adult Peregine Falcon perched on the Ambassador Bridge, two Red-shouldered Hawks and a Savannah Sparrow. Chickadees, White-breasted Nuthatches and Carolina Wrens were reported in record numbers. complete results
Visit December 2005 sightings.