April 2006 Sightings in the Windsor Area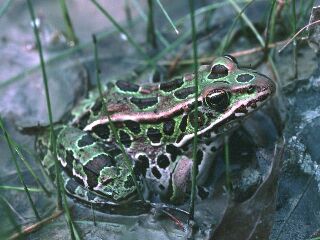 Visit the Nature Centre's Upcoming Events page and ECFNC Activities page for upcoming programs (updated March 6).
Visit our new bird photo gallery that contains bird photographs taken by park staff and visitors at Ojibway.
Tuesday, April 25: Warblers and other spring migrants are becoming more common at Ojibway. Yellow-rumped, Yellow, Black-and-White, Palm, Black-throated Green, Nashville and Pine Warblers have been seen near the nature centre. A male Hooded Warbler was present April 23 and 24 along the ditch near the parking lot.
Wednesday, April 12: Burned areas of the park were alive with birds this morning. American Robins, Hermit Thrushes, Golden-crowned Kinglets, Dark-eyed Juncos and Yellow-rumped Warblers were foraging on the ground. Two Blue-headed Vireos and a Blue-grey Gnatcatcher were singing behind the nature centre.
Fred Urie reported additional migrants including Pine Warbler, Common Yellowthroat and Virginia Rail.
last night was fairly warm and many American Toads began to sing for the first time this spring. Chrous Frogs and Northern Leopard Frogs continue to be heard in at Spring Garden.
Tuesday, April 11: The nature centre was closed today while Lands & Forests Consulting conducted prescribed burns at Ojibway Park and Spring Garden Natural Area. Twenty-three hectares (52 acres) were burned in order to promote the survival of oak savanna and prairie species.
Friday, April 7: A walk around the pond at Spring Garden Natural Area this morning turned up an American Bittern, and several Eatern Towhees, Fox Sparrows, Song Sparrows, White-throated Sparrows and Eastern Phoebes. Large numbers of Chorus Frogs and a few Northern Leopard Frogs were calling from the pond.
The first Yellow-rumped Warblers and Winter Wrens appeared at Ojibway on April 5. Fox Sparrow and Chipping Sparrow were seen April 1. Good numbers of Golden-crowned Kinglets and Brown creepers have been reported by park visitors.
Visit March 2006 sightings.